The company
---
The passion between our family and wine burst in the first decade of the past century. Our grandparents, in fact, understood for first the potentialities which a land as our could express, setting up one of the first companies for the wine from cask commerce. Toward the end of the 60's of the past century, our father Giovanni Soloperto made a step forwards and, before the DOC law, he put in bottle pure Primitivo in the first, little cellar.
The cellar
With the passing of time the cellar has grown up to reach its current dimensions and today in our company, we produce about two millions of bottles every year. Primitivo di Manduria is always our main resource, placed side by side at wines of the Apulian tradition such as Negroamaro and some white-berry vines of Murgia hill, which are part of the DOC of Martina Franca and Locorotondo.
Our work, in fact, is focused on the promotion of the Apulian autochthonous vines, a land rich of varieties and history. At the same time, we pay attention to customer's needs offering to them both simples wines and ready to drink, and more complex and structured wines, which tolerate ageing very well. Each bottle of Soloperto's company is always a product of high quality, that spread in the world the aim of a terroir unique: Apulia.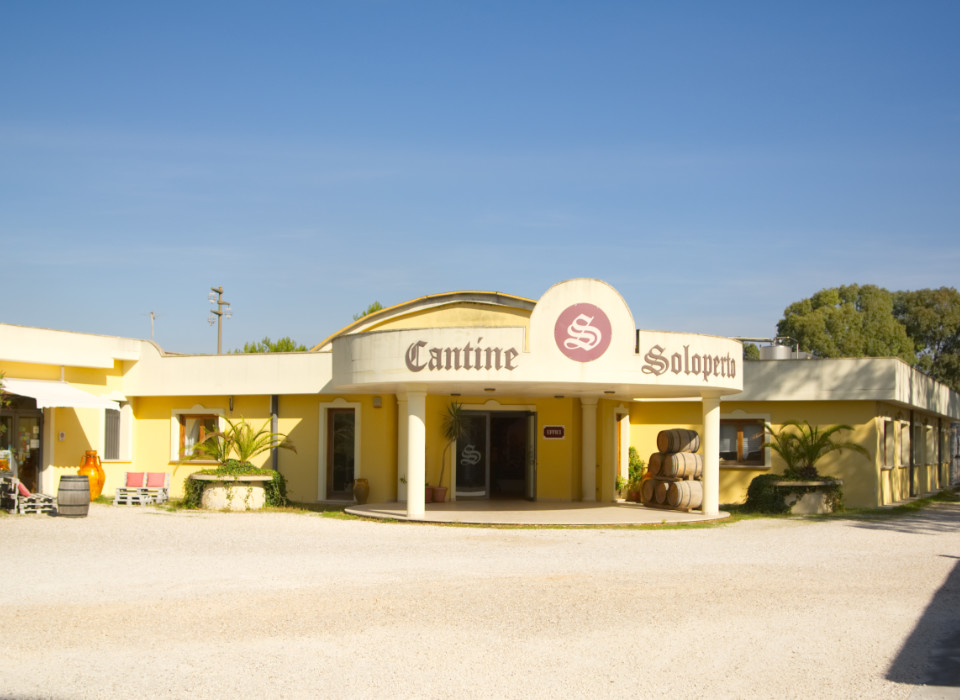 The vineyards
Through the time, Soloperto's family has acquired vineyards in the best plots of land of the terroir of Manduria and of his district. The wines at the highest wine vocation are the élite-wines of Primitivo, and some of them are wine-cultivated for more than hundred years.
In Bagnolo quarter, for example, there is the ancient vineyard, with stumps which sometimes reach and overcome 2.5 metres in their highest moment of maturation. Shrubs, in spite of their age, are still fruitful, and from their grapes we obtain the élite-wine Centofuochi.
In Spina and Schiavoni quarters, our company holds also two others plots of land with forty years old shrubs.
In how many ways someone can love his land?
The family
In how many ways someone can love his land? For someone who was born in the south of everything, is not enough to be binded to its own land. This land want more: it claims hard work and spirit of sacrifice. Who have never seen a thousand of tanks taking the way for the north of Italy can't understand. It's a slow robbery, that carry on, paid with pieces of bread. Giovanni Soloperto has seen a lot of wine travelling up and down all over Italy, but he don't want to give away his gold anymore, his gold, Primitivo di Manduria.
Forty years ago, before anyone else, he understood that the revenge passed between the rows of a vineyard, and his dream started from here.
---
In how many ways someone can love his land? For someone who was born in the south of everything sometimes even a gesture is enough. In 1969 Giovanni Soloperto has begun the story of the Primitivo and he firstly put it in bottle, when a DOC with that name didn't exist still. "Delicate and entire meal wine" he wrote on it. Luigi Veronelli, one of the most important wine journalists in Italy, tasted the Primitivo and he liked it very much, as a proof that the times when this wine was used as reinforcement of other wines were ended. Then the law on the DOC was approved and Giovanni was the first to register his company and at that time his gesture was considered crazy: he put a table at the entrance of his cellar convincing dozens of people to sign the membership of their vineyards. "If you sign the membership I will pay you the double than the others" and at those times of lire and hunger these words were enough.
Projected to the future
Voilà, Primitivo di Manduria born this way, on a simple wood table, beginning a story of success and revenge of a land full of hunger and poorness. It's a story that now is continuing without his protagonist but, at the direction of the company, Giovanni has left his sons Sabrina and Ernesto, which are continuing the father's work. Their mission is the same: to redeem a land and to give back dignity to a vine second to no one.
---